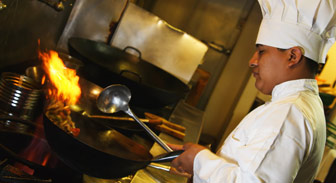 If you've ever wondered what makes up authentic South Dakota cuisine, look no further. Food in the Mount Rushmore State tends to be stick-to-your ribs American fare, influenced by the state's Native American traditions and the culinary styles of later European and American settlers.
Tribal Treats
South Dakota owes its culinary heritage to the many cultures which settled in the state, including its native peoples. While certain Native American tribes living in the region had cultivated vegetables like beans, squash, corn, and melons, most initial food types were basic, including almost anything you could hunt or gather while migrating from place to place. Local game is still important in the Mount Rushmore State, whether it's venison, elk, wild turkey, trout, or walleye.
Of course, buffalo (also known as bison) played a crucial role in the diet and lives of the state's tribes. Although buffalo were hunted by Americans to near-extinction by 1893, efforts to increase their numbers throughout the United States have been successful. Today, buffalo thrive in South Dakota, with herds roaming in state and national parks, on reservations, and on ranches. Restaurants serve numerous buffalo dishes, such as burgers, barbeque, roast buffalo, and stews.
Wahwapa iwasna is a traditional Native American dish, commonly referred to as corn balls. The dish is simple: dried chokecherries or juneberries mixed with ground dried corn kernels, lightly browned with tallow, lard, or water in a frying pan. A similar dish which is even more beloved in South Dakota is Wojapi, a pudding made with native fruits, especially chokecherries or other wild berries. Favorite dishes to serve with Wojapi include buffalo and fry bread.
Fry bread has become a ubiquitous food among Native American tribes across the country, and it's the official state bread in South Dakota. This fluffy, delicious bread can be eaten in a variety of ways, but travelers are most likely to find it either served plain or as an Indian Taco. If you fall in love with fry bread, check local stores for authentic fry bread mix made by companies like Little Chief Speciality Foods or WoodenKnife Co., both Native American-owned businesses in South Dakota.
Pioneering Palates
European and American settlers who came to the Mount Rushmore State had an even larger impact on its foodways. Hogs became an important staple in the prospecting diet, especially fried bacon accompanied by beans. Salting and smoking preserved hog meat for future use. A favorite meal using fresh meat was pork roast served with a side of sweet potatoes and rhubarb pie. Basic bread types like corn bread and sourdough bread were also popular.
With the arrival of specific ethnic groups, like the Scots and Scandinavians (especially Swedes), came certain types of food. The Scots emphasized the raising of cattle, which allowed beef, milk, cheese, and butter to become dietary staples. With the cattle ranching industry also came cowboy cuisine. Nowadays, those in search of a true taste of the West may enjoy dining at one of South Dakota's chuckwagon dinners, which often include entertainment. Among the best is the Flying T Chuckwagon Supper & Show, about 6 miles south of Rapid City.
Scandinavians as a whole were fond of coffee and sweet baked goods, like almond cakes, spice cookies, and yeast crullers. Swedes introduced the rutabaga, a root vegetable. Rutabaga cooked with apples and brown sugar is still served in South Dakota today. Fruit soup and rice pudding were other Swedish favorites.
German immigrants contributed what's now the official state dessert, a tasty treat known as kuchen. A variant of coffee cake, kuchen begins with a cake-like crust, topped with a custard filling and often a fruit topping. Any type of fruit can be used, but the state's official recipe is for apple kuchen.
Potatoes have played an integral role in South Dakota fare, particularly around the turn of the 20th century. Homesteaders during this period based many of their meals around potatoes, with plenty of salt pork and whole wheat bread rounding out their diets. Even today, potatoes remain one of the state's favorite vegetables - so much so that the city of Clark, which grows many of the tasty tubers, is known as the Potato Capital of South Dakota. With such a nickname, it's easy to see why Clark plays host to the Mashed Potato Wrestling contest, an event that certainly deserves a spot in the "one-of-a-kind" category. The contest takes place during the annual Clark Potato Days festival in August, which also includes cooking contests, potato sculptures, potato decorating contests, and many more family-friendly events.
In the 1890s, the Chinese ring-necked pheasant was first imported to South Dakota. The exotic game bird became so popular that it's now the official state bird, which is important because there's an absolute plethora of recipes that use pheasant as the main attraction. The birds are cooked in a variety of ways, utilizing a number of assorted spices and flavors. Whether roasted, stuffed, or served in a casserole, pheasant appears on many menus.
Restaurants
When traveling in the Mount Rushmore State, visitors will find a variety of restaurants to choose from. Chain restaurants, such as Chili's, Outback Steakhouse, and Cracker Barrel, are more numerous in larger cities like Sioux Falls and Rapid City. American food predominates, but Italian, Chinese, Mexican, and a few other ethnic eateries exist. Of course, locally-owned restaurants are where you're most likely to find real South Dakota-style cooking.
The Mount Rushmore State's culinary styles are rooted in its cultural past. Whether you want to try unique dishes like Wojapi or stick to your own tried-and-true favorites, you'll find numerous appetizing eats in South Dakota.
Print this Article